Tiger Tennis Takes On Farmington – Northwest Arkansas Democrat-Gazette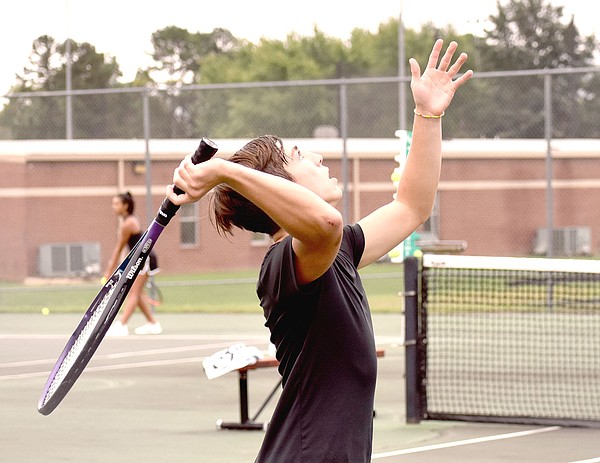 PRAIRIE GROVE — First-year Prairie Grove tennis coach Sierra Merrick was hired Aug. 4 and started practice Aug. 5. Merrick, a 2014 graduate of PGHS, started teaching at the school last semester, but the 2020-2021 school year will be her first full year. She attended college and graduated from the University of Central Arkansas at Conway.
She said Prairie Grove head girls basketball coach Kevin Froud has a picture of her sitting next to him on the bench as a five-year-old during a Peewee basketball game, the year she began attending Prairie Grove schools. As she grew up, Merrick opted to support the Tigers as a cheerleader in high school rather than in athletics.
"I didn't even know we had a tennis team when I was in high school," Merrick said.
But she didn't let that oversight nor the absence of a tennis background stop her from doing what she can to head up the program which turned out a District 4A-1 singles girls champion in Maria Maraver during the 2013 season and sent a boys doubles team to state last year.
"They just needed a tennis coach. I said I'd do it," Merrick said.
Merrick teaches third grade at Prairie Grove Elementary.
Prairie Grove took the short trip over to Farmington Thursday, confronting their rivals as well as themselves on the tennis courts.
"This is round one of two rounds in the rivalry," said Farmington coach Denver Holt, who is fully aware that the regular season may not be the end of competition between the two schools.
"At some point, I imagine we'll see some of these [Prairie Grove] kids in the district tournament. We're all battling for spots. Through the years it's been a great rivalry maybe not at all spots, but every year there will be two or three spots that if you come here and watch you'll see some good tennis played."
Holt pointed out last season the rivalry showcased intensity between the boys doubles teams grinding out full sets that required tie-breakers with even higher stakes when both schools advanced a team into the District 4A-1 finals.
"This year it looks like the main battle shifts to boys singles," Holt said.
Omar Qedan, of Farmington, and Eli Fisk, of Prairie Grove, did their best to outperform the other during Thursday's tennis match. Fisk eventually won for Prairie Grove, 6-3, 6-7, 7-5.
Boys singles No. 1 – Eli Fisk (Prairie Grove) def. Omar Qedan (Farmington), 6-3, 6-7, 7-5.
Boys singles No. 2 – Logan Petty (Farmington) won 8-3
Boys singles No. 3 – Clay Jansson (Farmington) play Subiacos #2 singles and won 8-0
Girls singles No. 1 – Catherine Warren def. Ella Nations (Prairie Grove), 6-3, 6-1.
Girls singles No. 3 – Kaylee Thomas (Farmington) def. Emily Meadley (Prairie Grove), 8-1.
Girls singles No. 4 – Rylee Alverson (Farmington) def. Sydney Lamprow (Prairie Grove), 8-2.
Boys doubles No. 1 – Taylor Raabe/Connor Sharp (Farmington) def. Jake Bone/Evan Foster (Prairie Grove), 7-5, 6-3.
Girls doubles No. 1 – Kaylee Thomas/Grace Webb (Farmington) def. Julissa Mauk/Alyssa LeDuc (Prairie Grove), 6-4, 6-0.
Girls doubles No. 2 – Rylee Alverson/Abianne Combs (Farmington) def. Toni Parrish/Ava Pinkerton (Prairie Grove), 6-4, 6-1.