Ken and Trish Byers Endow Tennis Head Coach Positions – Georgia Tech Official Athletic Site
THE FLATS – Longtime Georgia Tech benefactors Ken and Trish Byers have committed to continuing their substantial support of the Yellow Jackets' men's and women's tennis programs by endowing both programs' head coach positions, director of athletics Todd Stansbury announced on Friday. The positions, held by Kenny Thorne and Rodney Harmon, will be titled the Byers Men's Tennis Head Coach and Byers Women's Tennis Head Coach, respectively.
"Ken and Trish Byers' longtime support of Georgia Tech men's and women's tennis has been transformative for both programs, including their lead gift that allowed us to build the world-class Byers Tennis Complex, and now their endowment of the Byers Men's and Women's Tennis Head Coach positions," Stansbury said. "Their latest commitment will provide additional annual strategic revenue for both programs to recruit and develop student-athletes that will compete for ACC and national championships."
"Out of respect and admiration of how Georgia Tech's tennis coaches and players represent the school, both athletically and academically, Trish and I are proud to continue our support of the programs," Ken Byers said. "Particularly during this period of uncertainty, we hope our timing will show the NCAA tennis world that Tech will be included in the elite programs.
"In 2006, we endowed two player scholarships, in 2010, we helped with the courts and now in 2020, we are supporting Coach Kenny and Coach Rodney with enhanced program resources," he continued. "We anticipate being called upon in a few years to help build a display structure for all the trophies and awards our teams will win."
Ken Byers earned bachelor's and master's degrees in electrical engineering from Georgia Tech in 1966 and '68. In 1971, he founded Byers Engineering Company, which spun out eQuorum in 1996. He serves as the chairman of both companies and is a member of the Technology Hall of Fame of Georgia.
He and his wife, Trish, have provided philanthropic support to Georgia Tech for five decades, including gifts for scholarships, faculty, research, student life, cooperative engineering and even the Einstein monument on campus. They are members of the Alexander-Tharpe Fund's Golden Jacket Society in recognition of more than $1 million in lifetime giving to Tech athletics, and provided the lead gift for the construction of the Ken Byers Tennis Complex, the home of Georgia Tech tennis that opened in 2013.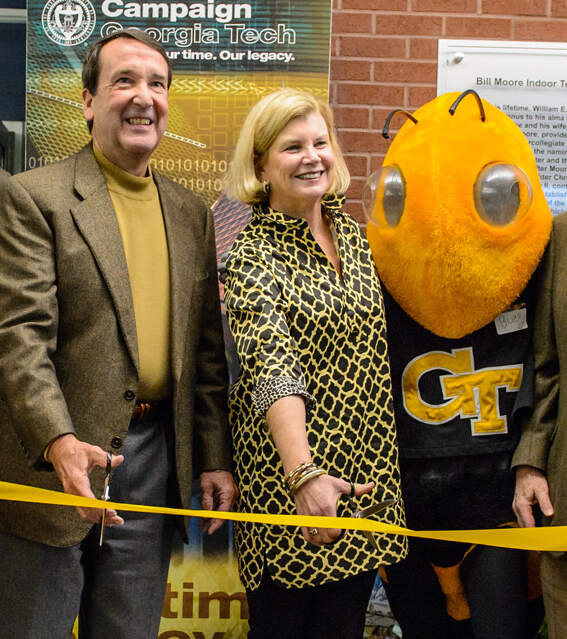 Ken and Trish Byers at the ribbon cutting ceremony for the Byers Tennis Complex in 2013.
"Ken is a close friend and extremely generous donor to our tennis program," Thorne said. "Ken's gift is simply incredible and represents the strength of the Georgia Tech community even in the toughest of times. It also shows the incredible potential of college tennis donors around the nation. I'm honored to have his name on my head coach's title. He always joked that I was named after him, so now it is actually true."
"Ken's contributions to the Georgia Tech tennis program go far beyond just having his name on the facility," Harmon said. "He and his lovely wife Trish are ardent supporters of our programs with their attendance at matches, support through emails and phone calls to our coaching staffs. They love Georgia Tech. Their support to endow the head coaching positions for men's and women's tennis are just another example of how committed boosters can help athletic programs especially in such uncertain times.
"Not only will their endowment have an immediate impact on the tennis programs, but the long-term effects of this endowment will create sustainability and support from the community, which will directly strengthen our recruiting efforts. Their endowment will enable Georgia Tech tennis to remain a top-tier program in the country and be programs the Yellow Jacket community are proud to support."
The tennis positions are the second and third head coach positions to be endowed at Georgia Tech. In January, Georgia Tech athletics announced that the Yellow Jackets' swimming and diving head coach position had been endowed by former student-athlete Richard L. Bergmark and his wife, Toni, and titled the Toni M. and Richard L. Bergmark Swimming and Diving Head Coach.
Alexander-Tharpe Fund
The Alexander-Tharpe Fund is the fundraising arm of Georgia Tech athletics, providing scholarship, operations and facilities support for Georgia Tech's 400-plus student-athletes. Be a part of developing Georgia Tech's Everyday Champions and helping the Yellow Jackets compete for championships at the highest levels of college athletics by supporting the A-T Fund's Annual Athletic Scholarship Fund, which directly provides scholarships for Georgia Tech student-athletes, and the Support The Swarm Fund, created to give fans an opportunity to help Georgia Tech athletics maintain its recent momentum through the financial challenges of the Covid-19 pandemic! To learn more about supporting the Yellow Jackets, visit atfund.org.
For the latest information on the Georgia Tech Yellow Jackets, follow us on Twitter (@GTAthletics), Facebook, Instagram or visit us at www.ramblinwreck.com.