Meet the stars of 2020-21 boys' basketball: St. Joseph-Ogden's Ty Pence – Champaign/Urbana News-Gazette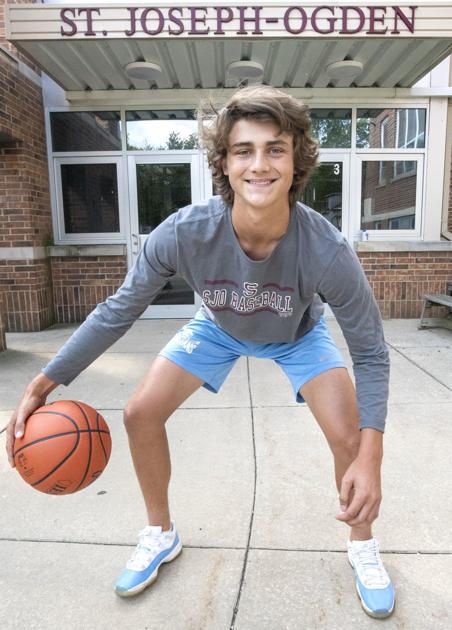 How did you get your start in basketball?
"I started when I was around 4 or 5. In St. Joe we have a youth organization here run by one of my parents' friends, and I started a little early (kindergarten instead of first or second grade), and I've just been playing ever since."
Given how tall you are, have you always been destined to play basketball long-term?
"Yeah, basketball and baseball I've always really liked. But these past few years I've really grown a lot, and my basketball game has come together a lot more than my other sports have. So I think basketball is what I'll probably pursue."
How do you feel about your prep basketball career so far?
"It was really fun. I had a good group of guys out there with me. Those guys were and still are some of my best friends, and they helped me to become the player that I am now. And hopefully I can continue to help my other players that are still here become the best players they can be."
You immediately were a focus both within your own team and for opposing teams to stop. What was that like as a freshman?
"The responsibility was pretty big. It was pretty huge, and what we were doing as a whole team and coming in and being able to lead my team, it was pretty cool. And being able to have the others depend on me was something that was pretty cool to me."
What was the biggest adjustment for you between junior high basketball and high school basketball?
"Basically just the physical part of it. Going from playing in eighth grade and going to varsity, the guys were a lot bigger, stronger and they jump higher. The whole physical part, being strong enough and playing physical, is just one of the biggest things in that jump. …Right after the eighth-grade basketball season I didn't do track so I could come lift, and I think I got a lot stronger and that helped me. But I'm looking to be able to be more physical this year, and I think that'll help my game overall."
What has been the high point of your prep career so far?
"Probably the greatest experience I've had as a basketball player was our regional championship this year against Bismarck. That was a really great crowd and a great environment, and just being out there with my guys, that was one of my best memories."
And the low point?
"There were a few rough games in the past during my freshman year where I was struggling a little bit. But like I was saying, those guys, they trusted me and depended on me, and they really helped me bring myself back up."
SJ-O graduated eight seniors from its 2019-2020 roster. How do you feel that might change your role for 2020-21?
"One of the big things that'll change is probably the whole leadership role. Becoming a captain will hold big responsibilities that I need to fill, and I'll need to be able to lead my teammates, to make sure that we're ready and prepared to play every night. … With a lot of those seniors leaving (and) since I'm the only person that has had experience in a varsity game, I think we will need to have a lot of guys step up. And we're going to need to have a lot of leaders, just to make sure that we're always prepared and ready and that when things don't go right we need to be able to pick ourselves up."
What's the biggest thing you've learned about basketball after one season at SJ-O?
"Basketball for me is just something that I can go out there, and it's just something I do that's just fun. It builds lots of relationships for me, and it just relieves a lot of stress. It's just something that I'll cherish for the rest of my life."
You received your first Division I offer this past week from Western Illinois. What is the recruiting process like?
"I've had a few (contacts), and I think it's pretty cool to just be one of the guys who is actually having that opportunity. I'm very honored and thankful for that because I know there are a lot of people in the world who play basketball who haven't had those opportunities. I just give all the praise to God and my family for giving me those opportunities."
Was the Chicagoland Prep Hoops Freshman of the Year award something you were familiar with before you received it?
"I wasn't aware of it until I saw they tagged me in it on Twitter, and that was something I'm very honored for. I'm going to use that to help me build confidence."
It'll likely put a bigger target on your back
"I've just got to make sure I'm prepared and ready for whatever comes at me next year and just make sure that I'm just kind of bringing everything up to myself and trying to keep my expectations up."