2020-21 Winter Preview: Lamar Boys Basketball – Ozarks Sports Zone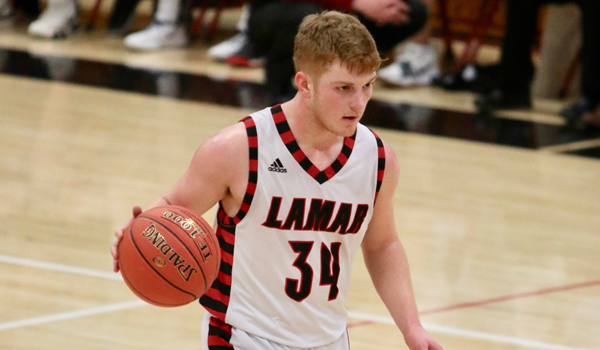 By Brennan Stebbins (For OzarksSportsZone.com)
Another year, another winning season for the Lamar boys basketball team.
That was the story for the Tigers last winter as Lamar went 14-12 and posted its ninth-straight winning season for a school considered a football powerhouse.
The Tigers have four district championships and seven appearances in the championship game in that stretch, but suffered a first-round loss to Sarcoxie last year.
"I thought at the end of the year we were playing really well," head coach Matt Powell said. "What kind of got us in the end was something we struggled with all year, we just had trouble putting the ball in the basket, from everywhere. From two feet, free throw line, three point line. We knew that wasn't our strong suit but we just couldn't quite do it enough at the end to advance as far as we thought we were capable of."
Lamar returns two starters this season but must find a way to replace JD Bishop, a first team Big 8 West selection, and Connor O'Neal, an honorable mention all-conference pick
Bishop averaged 15.6 points and 6.9 rebounds per game to go along with two assists. And O'Neal scored 8.5 points and pulled down 5.1 rebounds per game while leading the team with 53 blocks, an average of two per contest.
"You can't replace JD," Powell said. "He did everything for us from bringing the ball up to guarding the other team's best player, scoring at the basket, absolutely everything. We'll just have to have other guys step up and create their own role. You just can't replace someone like JD, he was fantastic."
The two returning starters are Case Tucker, an honorable mention Big 8 West player and the team's only senior this winter, and junior Mason Gastel.
The 5-foot-10 Tucker averaged 10.5 points and 4.1 rebounds per game last season and also led the team with 37 steals despite playing through an injury. The 6-foot-4 Gastel scored 9.2 points and grabbed 4.8 rebounds.
"Case is very strong, he's a winner and he competes," Powell said. "He'll play the guard spot on offense and since he's big and strong sometimes we might put him in the post, and the same with Mason, he plays point guard, that's kind of his natural position but at the same time he's our tallest player and we'll probably try to run some stuff where we can get him down in the post. He'll be our primary ball handler, bringing it up and both of them are going to have to score. At the same time they're probably two of our three best rebounders for sure."
Sophomore Joel Beshore will likely earn a spot in the starting lineup despite appearing in just four varsity games as a freshman. Powell said he's got a good basketball career ahead of him.
"He can put the ball in the basket at every level and handle the ball," he said. "He's a skilled basketball player if not our most skilled basketball player."
The rest of the lineup will be filled out by a mix of juniors Conner Shoff, Trace Willhite, Gunnar Dillon, Riley Heckadon and Ethan Reed.
Shoff is the most experienced of the bunch, having appeared in 26 games and averaging 6.6 points.
"He came off the bench and he can really get hot from three," Powell said. "Shoots the basketball well. We'll have to learn how to get better on the defensive end."
Willhite played in nine games and recorded 18 rebounds and five steals. He'll be the team's best athlete this year.
"The good thing is he knows his role, he's going to guard the other team's best player no matter if they're the point guard or their center," Powell said. "He's about 6-3, 200, he can guard any position. He might be our first but he's in the mix of top three rebounders."
Dillon is another 6-3 player who averaged 3.5 points and 1.9 rebounds while playing in eight games; he added seven blocks.
"He can put the ball in the basket, he's kind of a stretch four but a really good shot blocker on defense but he's real thin," Powell said. "He kind of makes up for being so thin with his ability to read and block shots."
Heckadon, a guard, transferred to Lamar from Hume where he was one of the team's best players last year. And Reed, another guard, is also looking for varsity minutes after playing primarily junior varsity last year; he did appear in seven varsity games. Others who were primarily JV players will also be in the mix.
This year's version of the Tigers won't look like a typical Lamar team, Powell said, and that should be apparent as soon as they take the floor.
"We're thin and we're not these big, strong guys," he said.
Lamar won't be as physical as in years past and won't have as much of an inside presence. Instead the team will rely on finesse and basketball skills. The three-point shot will also be a bigger part of the offense.
"And that's a scary thing for me," Powell said. "That is our strength, shooting the ball and being pretty difficult to guard and defensively I think even though we're capable of being a good rebounding team I'm hoping we can learn how to stop them from getting to miss their first shot. I think we'll struggle defensively just with our size but I think they're going to be a really fun group to coach."
One wrinkle in Lamar's schedule is a non-conference game against Thayer on December 18, which will be played in Rogersville. Thayer and coach Matt Pitts are familiar opponents for Powell, who previously coached at Gainesville.
"That will be a fun game," Powell said. "I'm close with coach Pitts and I think they're going to be really good. That will just be a fun game for everyone, a non-conference game that doesn't mean a lot but two really competitive programs in football and basketball."