2020-21 Winter Preview: West Plains Girls Basketball – Ozarks Sports Zone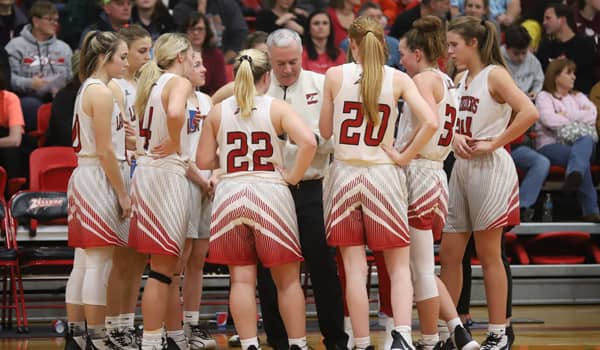 By Jordan Burton (For OzarksSportsZone.com)
Scott Womack is entering his 29th season at West Plains in what has been a historic career with 537 wins and counting, 27 of which came last year as part of the Lady Zizzers Sweet 16 run.
West Plains loses three starters from that team in All-Ozark Conference trio Cassidy Cunningham, Bre Harlan and Alli Holesapple. While it will be a season of transition in some ways, Womack and assistant coach – and former West Plains/C of O star – Cass Johnson return a pair of starters and nine total letterwinners.
Leading the Lady Zizzers will be the dynamic duo of MacKenzie Brunson and junior Ashton Judd. Brunson was the Ozark Conference Player of the Year and Judd was also an All-OC pick.
Brunson averaged 15 points, five rebounds, three assists and three steals. She's a two-time all-state selection. She'll join the 1,000-point club this season and will be a four-year starter.
"MacKenzie is a very smart player who always puts herself in a good place to be successful," said Womack. "Really stepped up last year as a leader for us. One of those players that doesn't wow you during game but after game her stat line will wow you."
Judd is a 5-foot-9 forward that averaged 12 points and seven rebounds.
CLICK HERE FOR ALL OF THE WINTER SPORTS PREVIEWS
"Ashton has worked extremely hard to put herself in position to be a tremendous player for us this year," said Womack. "She can score in so many ways I look for her to lead us in scoring this year."
West Plains will also lean on a loaded sophomore class.
Drew Harris and Zoey Williams return after playing significant minutes last year. Both are tremendous defensively but are also underrated offensively.
"Drew was our 6th man last year as a freshman and will definitely need to be a scorer around the basket for us this year. She is a great athlete who works hard on the defensive end of the floor.
"Zoey is a hard-nosed athlete who can shoot the ball from three."
Classmates Georgia Osborn, Kayley Dixon and Mary Claire Gohn will all add backcourt depth and can also make perimeter jumpers.
Senior Jade Berry will add another post option and junior Peta Collins gives West Plains another player with defensive versatility.
Womack is also excited about the development of Allyssa Joyner and Maddie Hughston. Standing 6-feet and 5-foot-8 respectively, both could see significant varsity minutes this winter.
For West Plains, the challenge will be getting everyone acclimated following the major graduation losses. There's no shortage of talent in Zizzerland and, as always, they'll figure into the championship races within the conference and district.
"I think it is important for this team to learn their roles and continue to improve throughout the year," said Womack. "They showed lots of promise this summer and at times we played extremely well. With so many young players we need to improve on the defensive end of the floor and instill that mentality throughout the season. We will also need for some of the younger players to become scorers for us since we lost about 24 ppg from last year's team."
With a career that has covered three decades and a Hall of Fame induction, Womack is West Plains Basketball. But even with the sustained success and years of service, he's not given much thought as to when he'll hang up the whistle.
"I still really enjoy coaching this group of players and as long as I still enjoy doing that I will continue to coach," said Womack.
West Plains will open the 2020-21 season on Nov. 23 at Willow Springs.