2020-21 Winter Preview: Hartville Girls Basketball – Ozarks Sports Zone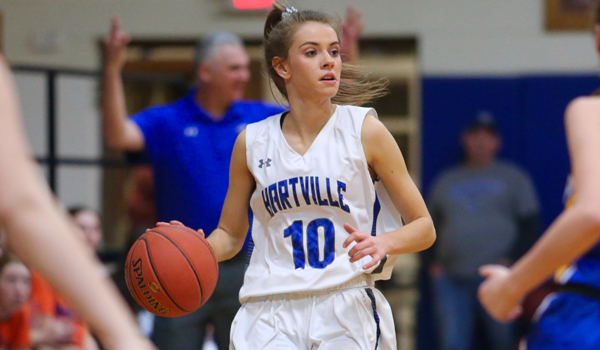 By Denise Tucker (For OzarksSportsZone.com)
Expectations always are high for the Hartville Lady Eagles.
So, even with last season's loss in the Class 2 District 10 championship and the graduation of two all-conference players, the Lady Eagles are poised for another successful season.
"We had a great season in terms of wins and losses," head coach Steven Sanders said of his team, which finished 23-5 overall. "We all were still very disappointed to come up short in the district championship game. I really hope the girls that are returning from last year have used that as motivation for this season."
Hartville was the No. 1 seed in its district, but suffered a two-point loss (52-50) to second-seeded Mansfield in the district final. Just two years ago, the Lady Eagles finished third in Class 2.
Key losses to graduation the Lady Eagles will look to overcome are Grace Culver and Katie Still.
• Grace Culver, who averaged 24.7 points per game, was an All-Summit Conference first-team pick and a Class 2 All-District 10 and All-State selection. "I think Grace was probably one of the area's best players people didn't know about unless they played us. She will be tough to replace as our leading scorer."
• Katie Still was an all-conference honorable mention honoree. "Katie was a kid we always wanted on the floor. She was a great teammate, one of our best rebounders, and would fill any role we asked her to take on to win games."
"We graduated four of our top seven, so we don't have a lot of experience returning this season," Sanders said. "We are going to need to have some girls step up early in the season to give us more depth."
CLICK HERE FOR ALL OF THE WINTER SPORTS PREVIEWS
The Lady Eagles do have some experience returning in Jadalyn Keith and McKinley Sanders, as well as Molly Brown, Kylie Harris, Kaylee Ferguson and Breyanna Flachsman.
• Jadalyn Keith, a senior guard, averaged 13 points, 2.8 rebounds, 2.7 assists and 1.2 steals per game last season. She also was an all-conference first-team and all-district selection, and is approximately 250 points away from 1,000 for her career. "Jadalyn is a really good shooter, handles the ball well and is our best on-the-ball defender. She has started since her sophomore year and has played on some good teams. We know what she is capable of doing and think everyone else will see it this year as she takes on more of a scoring role for us."
• McKinley Sanders, a junior forward, averaged 10 ppg, 5 rpg, 2 apg and 1.7 spg, and earned all-conference first-team and all-district honors. "McKinley is capable of playing any position on the floor, which we think makes her a tough matchup for a lot of teams. We are hoping she is more consistent this year shooting the ball, but will still rely on her to give us scoring and rebounding. We think she will have a great junior season."
• Molly Brown, sophomore guard. "Molly will have a much bigger role as a varsity player. She was able to split minutes on JV and varsity last season. She started a few games for us when we were dealing with injuries and did a great job. We are confident she is ready to be a varsity player."
• Kylie Harris, junior guard. "Kylie continues to improve each year. We think that she will be able to help fill in some of the spots that we lost to graduation from last year. We know that she will do a great job filling her role on this team."
• Kaylee Ferguson, junior guard. "Kaylee missed her sophomore year with a knee injury. We are glad to have her back this season and hope she can give us some depth."
• Breyanna Flachsman, sophomore forward. "We will look for Brey to give us depth in the post."
"We have several girls who can score for us, so we won't have to rely on just one person to carry us," Sanders said. "We know that in order for us to become a contender this season, we will have to get better defensively and rebound the ball better than we did last season."
And, Sanders hopes freshman forward Jenna Kelley will be able to make an impact in the paint this season.
"Jenna is most likely going to be thrown in the fire, so to speak," Sanders said. "She is probably as close to a true post player that we have had in a few years, but she also has some guard skills that we think will help her transition to varsity as a freshman."
Hartville is scheduled to open the season with back-to-back tournaments at Blue Eye and Norwood, respectively.
"We think we will have a good team this season, even after we have graduated a lot of really good players over the past few years," Sanders said. "Basketball is important here in Hartville and these kids don't want to be the 'rebuilding' team, and we definitely don't feel like they are.
"We feel like we have some key pieces returning this season. It is always our goal to compete at a high level and contend for a conference and district championship. We know it is never easy, but these girls are hard workers and will do everything they can to have a good year."