2020-21 Winter Preview: Licking Girls Basketball – Ozarks Sports Zone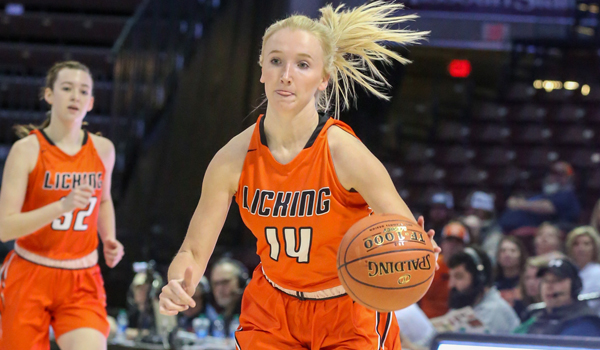 By Chris Parker
Licking had its best finish in program history last year going 25-7 and finishing state runner-up in Class 3 to five-time defending state champion Strafford.
The Wildcats return much of their roster from that run, but must replace two program stalwarts in Karlee Holland and Abigail Moncrief. The duo won four district titles in their four years and made it to two final fours. Holland averaged 20.2 points, 5.1 rebounds, 4.4 assists and 3.9 steals per game last year on her way to all-state honors. Moncrief averaged 6.7 points and 5.1 rebounds per game.
"Karlee and Abby have set the bar very high for future and current Ladycat basketball players," Licking head coach Steve Rissler said. "We expect to win at every level from second grade to varsity. These girls will have their pictures up in the gym as long as the school exists. They gave the breakfast crowd at PJs Café something to talk about for years to come."
The Lady Wildcats return seven other players that saw time in at least 27 of the 32 varsity games last year along with three other players that played in double-digit games.
"The girls all know what we have to do to be successful on a championship level. They understand what kind of effort is needed to consistently be one of the top teams in the state," Rissler said. "We have set up our schedule where if we don't play with maximum effort and execute our stuff we will lose."
CLICK HERE FOR ALL OF THE WINTER SPORTS PREVIEWS
Senior Anna Sullins and junior point guard Kylie Taylor will be asked to step up as leaders this year. Sullins averaged 5.7 points and 6.1 rebounds per game last year. Taylor averaged 6.5 points, 4 rebounds, 3.9 assists and 2.1 steals per game last year.
"Anna Sullins will be a vocal leader for us. She had a great final four and will only build off that performance," Rissler said. "Kylie Taylor will return as the floor general yet again and be a coach on the floor."
Sophomore Abbie Sullins is the leading returning scorer after putting up 10.2 points per game last year. The 5'11 guard has gotten strong in the off-season and brings great instincts to the defense.
Junior guard Kasey Richards will see an expanded role and is a strong shooter.
Kiley Ingram missed much of her sophomore season, but the 6'0 forward will add length to the defense and shooting to the offense. Junior guard Winter Murray stands at 5'10 and has grown both mentally and physically since last year according to Rissler. Senior forward Tomi Rose broke her foot late in the summer, but is almost fully recovered. She is a strong rebounder and strong shooter according to Rissler.
Sophomores Maci Sparks and Kaida Cook will also look to contribute. Sparks is a guard who had a strong postseason off the bench last year. Cook is a true post player for Licking.
Freshman guard Hannah Medlock will look to make an immediate impact with her scoring.
Not much will change with the way Licking plays.
"We will continue to do what we have done for eight years with trapping zones and chucking it from deep," Rissler said.
Expecting Licking to take a step back due to graduation losses would be a mistake.
"Losing Karlee, outside people will think we will be down. We know what kind of talent we have and what we are capable of," Rissler said.
Licking opens the season on Nov. 24 at home against St. James.