2020-21 Winter Preview: Reeds Spring Girls Basketball – Ozarks Sports Zone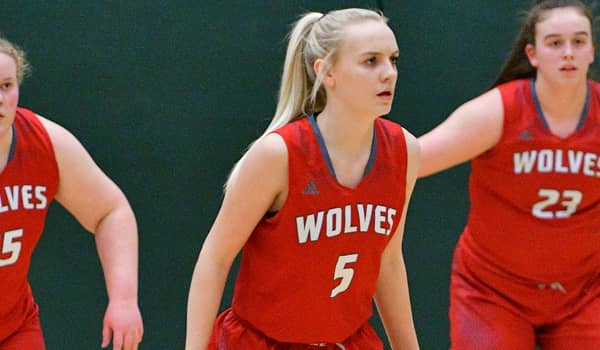 By Chris Parker
Reeds Spring has a new head coach this year, as former assistant Jessica McNichols returns to take over the Lady Wolves basketball program. McNichols most recently was the head coach at Lockwood where she posted an overall record of 41-15.
"I was previously an assistant coach at Reeds Spring before leaving to pursue a head coaching position at Lockwood. I am excited to return to several familiar faces. As the leader of the girls' basketball program, I am excited to serve in a role that allows for the opportunity to build a program at various levels and to build relationships with our student athletes and community," McNichols said.
Reeds Spring girls basketball has not finished above .500 since 2012, which is something McNichols is hoping to change.
"In order to move forward, my goal is to build genuine excitement for our program. That will come from building relationships with student-athletes at each level and having a consistent structure of expectations on and off the basketball floor," McNichols said.
Leading scorer Jade Watson returns for her junior season. She is the only returning all-conference player after she earned honorable mention honors last year leading Reeds Spring in both points (13 ppg), rebounds (8.8 rpg) and steals (3.6 spg).
CLICK HERE FOR ALL OF THE WINTER SPORTS PREVIEWS
"I am most impressed by Jade's level of competitiveness. She is consistent in her effort, attitude, and desire to improve each day. Her desire to compete has fueled her ability to score and defend at a high level," McNichols said. "My expectations for Jade are that she continues to push herself and her teammates to compete."
A trio of sophomores in Riley Sadler, Logan Dickens and Brithny Sacedo-Longoria have impressed McNichols in the early going.
"Riley Sadler has really impressed us with her toughness around the basket. She makes good decisions with the basketball and is consistently improving her ability to finish around the rim," McNichols said. "Logan Dickens has stepped up as someone opposing defenses will have to guard around the three-point line. Brithny Sacedo-Longoria brings consistent energy with her tough on the ball defense and ability to help distribute the ball."
Junior Alex Steed returns with the most varsity experience outside of Watson. She scored five points per game last year playing in all but three varsity games. Senior Sydney Sanders will be looked to in the post to provide rebounding.
Senior Cassidy Quick and junior Lexi Essick are two newcomers to watch out for.
"Our team's identity will lie in the ability to keep things simple and to control the things we can control," McNichols said. "My expectation for our team is to show up with a desire to work hard, work together and to find consistency in a lot of areas."
Reeds Spring opens the season on Nov. 23 at home against Sparta.