2020-21 Winter Preview: Miller Boys Basketball – Ozarks Sports Zone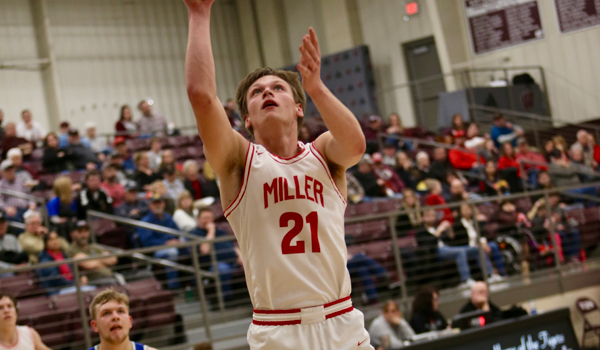 By Chris Parker
Miller boys basketball has a new head coach in Sean Price this season. He was previously the head coach at Gentry High School in Arkansas for six years. The culture around the program and town is what drew him to take over as head coach of the Cardinals.
"Miller is a community that supports athletics. They have great administrators that support athletics and understand the importance athletics have on education," Price said. "Miller has had a history of successful athletic programs and I felt like it would be a great place to take my first head coaching position in Missouri."
He takes over a program that finished 17-10 overall last year, and is seeking its first district title since 2011. The Cardinals graduated three of their top four scorers from last year's team, but the No. 1 scorer in Joel Kleeman does return. Kleeman earned First-Team All-Southwest Conference honors last year after leading the team in both scoring (15.9 ppg) and rebounds (7.1 rpg).
"Having a guy that knows how to score is a tremendous asset to have on your team. It is hard to teach someone how to score. Joel will not only be asked to score for our team, but also be asked to take on a larger defensive role this year. Joel has a lot of varsity experience which will be key to our success and instrumental in his continued development as a leader for our team," Price said. "His greatest assets are having the ability to get to the rim and score and his knowledge of the game. He is able to get a rebound on one end of the floor and find a way to get to the rim and score or get fouled. His knowledge of the game allows us to challenge him offensively and defensively."
CLICK HERE FOR ALL OF THE WINTER SPORTS PREVIEWS
Fellow senior Jeff Lung also returns after scoring 7.1 points per game while leading the team in 4.1 assists per game.
"Jeff will be asked to take on a large role for our team to have success. Jeff has been known as a pass-first guard. He is very good at getting other people involved, but for our team to reach our goals he will have to look to score more this year then he has in the past," Price said. "I expect Jeff to be a leader on and off the court. He is a high-quality person, who has the respect of his teammates. Jeff will have a lot of pressure put on him to lead our team and I expect him to exceed all expectations."
Juniors Brenden Thom and Kaleb Groesbeck have both had strong summers for Miller.
Thom saw limited varsity action last year.
"Brenden has the potential to be a difference maker on both ends of the floor. He showed signs this summer of being a very effective offensive player with the ability to score in bunches and showed the ability to be a very good defender. If we can get him to buy in to being the best defender on the floor then Brenden has all the potential in the world to be a great player for us," Price said.
Groesbeck also saw some time on varsity last season.
"Kaleb showed this summer that he can be a guy we count on at the varsity level. He has the ability to get to the rim and score and has a high basketball IQ. The thing we like about Kaleb is that he plays hard. We will reward the guys that play as hard as they can," Price said.
Logan Nield is a junior that played junior varsity last year. He will be counted on for varsity production this year.
"He will be an undersized post player that plays with a high motor," Price said. "Logan will have to be a jack of all trades for us and really thrive on playing defense and rebounding. Logan is a great kid and very coachable."
Price will look to install a defense-first mentality for his team.
"We are going to be a defensive minded basketball team that thrives on working hard every day in practice," Price said. "We will set high expectations for our program and spend each day working towards meeting those expectations. Players will be held accountable to being the best student and basketball players they can be."
Miller opens the season Nov. 30-Dec. 5 at the Marionville Invitational.
"Our expectations will be to be great students in the classroom, great citizens in the community, work as hard as we can every day in practice, and grow and develop as young men," Price said. "If we do those things winning will take care of itself."