2020-21 Winter Preview: Ava Girls Basketball – Ozarks Sports Zone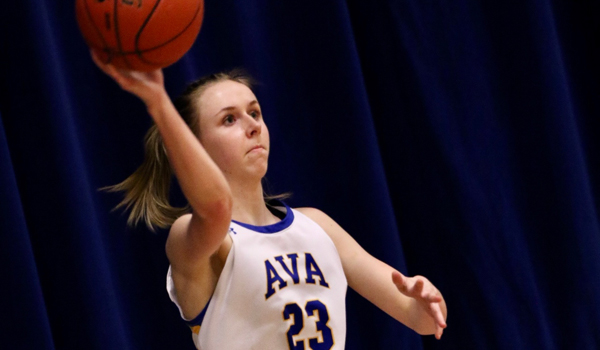 By Chris Parker
Ava girls basketball won 17 games last year, which was the most wins for the program since 2012. The Bears will look to improve on that mark and win their first district title since 2011 with two all-conference players returning this year.
Hannah Evans earned first-team all-conference honors as a sophomore.
"Hannah has a strong work ethic, a desire to win and is a great teammate. Her ability to score from different areas of the floor and defend has allowed her achieve success as an underclassman. Hannah needs to keep improving each day in practice. As an upperclassman, I expect her to be more of a vocal leader for our team. Her hustle and hard play inspires the younger players," Ava head coach Nathan Houk said. "Defensively, she may have to guard the post some or out on the perimeter. Her length, speed, and toughness allow her to defend wherever we need her. Offensively, I expect her to play out on the perimeter more for us. She has great range and ball handling and passing skills."
Olivia Gastineau found immediate success at point guard last year earning first-team all-conference honors as a freshman.
"Her skill level from every aspect and confidence have really improved over the summer. As a freshman, there were times she was unsure or hesitated when making a play. From the summer on, I have seen her play with a lot more confidence. As the point guard, her overall leadership has made improvements going into her sophomore year," Houk said. "Olivia sees the floor really well and does a nice job of sharing the ball with her teammates. Olivia also does a nice job of finishing at the basket."
CLICK HERE FOR ALL OF THE WINTER SPORTS PREVIEWS
Sarah Mendel is a sophomore power forward who stands at 6'1.
"She has really improved since last season. Sara can score in the post or knock down the three-point shot. Her length and skill allow her to be a real difference maker for our team," Houk said.
Baylan Alexander brings leadership to the team as a junior.
"Baylan is a tough defender and rebounder who can score in the post," Houk said. "Baylan can do a little bit of everything, and as an upperclassman, she will be a nice lead by example player for the younger players."
The sophomore trio of Lexie Gastineau, Keely Akers and Celia Fossett round out the returning players.
Lexie Gastineau is the twin sister of Olivia.
"(She) plays guard for us," Houk said. "(She) defends well, has good ball handling and passing skills and nice outside shot. Lexie is quick off the dribble and tough to guard."
Akers is a post players.
"(She) always finds a way to score and runs the floor well," Houk said. "Keeley's athleticism makes her a valuable player on both ends of the floor."
Fossett is a versatile player for the Bears.
"(Fossett is a) really good defender who can make three's and score in transition. Celia's speed and athleticism will keep her on the floor a lot. She will be one of our shut down defenders," Houk said.
Ava will hang its hat on defense this year
"We want to be a really strong defensive-minded team," Houk said. "We want to be able to use our defense to generate some our offense. On the offensive side of the ball, we want to push the tempo and try to score in transition. If a lay-up or easy shot doesn't present itself, we want run our offense, exercise patience, and get the shot we want."
Ava opens the season on Nov. 24 at Hollister.
"(We expect to) keep improving in the win column, get better each day in practice, and be playing our best basketball when the district tournament arrives," Houk said. "It is our goal to win a conference championship and make it to post-season play."