2020-21 Winter Preview: Verona Girls Basketball – Ozarks Sports Zone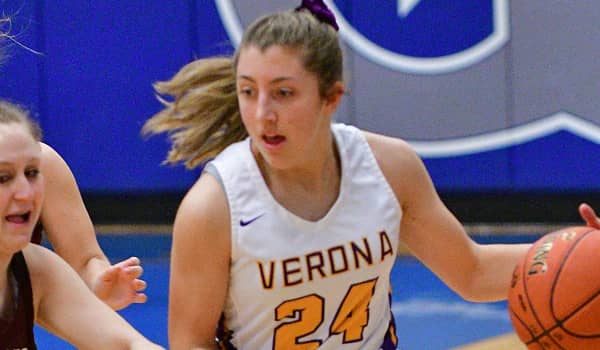 By Chris Parker
Verona girls basketball returns three starters from last year's team that finished 12-12 overall.
Leading those returners is senior Paige Bauer. Bauer earned first-team all-conference honors last season after she scored 22.8 points per game to go with 7.1 rebounds, 2.8 assists and 3.5 steals per game.
"She (Bauer) is very athletic and can create for herself or others," Verona head coach Brandon Weiss said. "She is a great defender that anticipates very well."
Senior Courtney Freiburger and junior Yoselin Martinez also return. Freiburger scored 2 points per game while Martinez added in 3.5 points per game. Martinez won't return until January after she tore her ACL late last season.
"(Martinez) is an athletic guard that can defend full court and put a lot of pressure on the opposing team's point guard," Weiss said.
CLICK HERE FOR ALL OF THE WINTER SPORTS PREVIEWS
Seniors Sydney Gamroth and Kendra Nungaray along with junior Anehli Reyes and sophomore Violet Tosh all return after winning letters last year.
The freshman trio of America Castillo, Zoe Saylor and Meghan Long will provide some depth for the Lady Wildcats.
"This year has added some much needed depth. With the returning players and the addition of some freshmen we will have more depth and be very athletic," Weiss said. "We are looking to play a much faster pace this year compared to last year. We want to put a lot of pressure on teams on both ends of the floor. We want to attack with our press and then push the ball on makes and misses."
Verona opens the season Nov. 21-25 at its home tournament.