Lancaster inks letter to play tennis in Georgia – Hot Springs Sentinel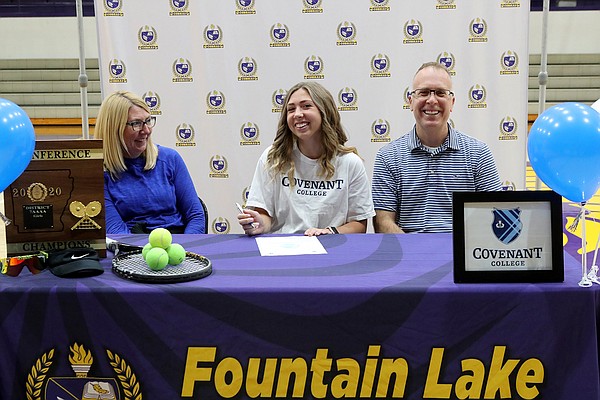 FOUNTAIN LAKE — Fountain Lake senior Jordan Lancaster will be continuing her tennis career on the collegiate level next year after signing a letter of intent to play at Covenant College, an NCAA Division III college just across the Georgia state line from Chattanooga, Tenn.
Lancaster inked her letter during a ceremony in the Irvin J. Bass Gymnasium Thursday afternoon, joined by family and friends.
The Lady Cobra advanced to the quarterfinals of the Class 4A state tennis tournament this year after missing it a year ago. Lancaster, who noted that her faith helped to inspire her college choice, was on a mission trip last fall during the 4A-7 conference tournament, keeping her from gaining a state tournament berth.
"Anytime we have somebody that goes and plays at the college level, it's an honor," Fountain Lake tennis coach Glenn Davis said. "You know, Jordan, she truly, truly has improved her game, by leaps and bounds from her junior year to her senior year. And her junior year, during the district tournament week, she was actually gone on a mission trip, so she missed that. So she missed her chance to qualify for state play, which this year she got to state, got to the quarterfinals. And represented us well, you know, and played some really good competition and played it well."
Lancaster aims to pursue a degree in Bible and theology with the desire to someday go into Christian ministry.
"Covenant is a private school, and I want to attend a private school because I want to go into ministry someday," she said. "And so I want to take Bible classes and classes that will help me reach what I want to do. And Covenant, it's just a beautiful campus. And I like the idea of going out of state and just exploring more of the world that's not Arkansas."
Davis said that, to his knowledge, Lancaster is likely the first tennis player to sign to play on the collegiate level, at least in his 20 years at the school.
"We're just excited to have somebody go on," he said. "You know, I can't think of the last time somebody has gone on to play tennis at the next level from here, in my 20 years here. Now that's not to say that there haven't been some but none that I know of, you know, that I can recall."
Lancaster said that she will miss competing against people from all over the state that she has gotten to know over the years as well as her teammates at Fountain Lake.
"I definitely will miss playing USTA tournaments — those are like the travel tournaments," she said. "Those were all around Arkansas, but just I've made like so many different friends, like tennis friends, and then I'm gonna miss my team a lot because the Fountain Lake tennis team is just the best atmosphere."