Australia Wallabies 16-16 Argentina: 2020 Tri Nations rugby – as it happened – The Guardian
Here's Emma Kemp's match report.
For the second time this Tri-Nations series Australia and Argentina grind out a draw. Neither have been particularly edifying spectacles, although this one did at least contain a couple of tries.
Draws – the pair between tonight's protagonists, and the recent Bledisloe tie – have been a feature of international rugby recently. As have cards, and tonight was no exception with three yellows and one red during the course of a game that contained no spite, just its share of poorly directed shoulders.
From an Australian perspective tonight, as with the match a fortnight ago, was all about failing to capitalise on a wealth of possession and territory. Handling errors abounded, and although conditions were wretched, the level of skill on display was poor. Moreover, after failing to score a try against Argentina two weeks ago, or in tonight's early stages, there seemed little appetite for a Plan B or an inventive solution to the challenge faced by the phenomenal black and blue wall in front of them.
That wall, Argentina's magnificent defence, is the takeaway of this entire series. Over two matches they only conceded one try to Australia and when they defeated the All Blacks in that historic encounter last month, they defended so fiercely it was practically an attacking weapon. Time and again the best of Super Rugby tried and failed to find a way through the most disciplined and resolute line imaginable. Even without captain Matera and other big names the Pumas stuck to their task and refused to be cowed.
It is to Argentina's credit that they even journeyed this far at all, in the circumstances. They leave with their reputations mightily enhanced.
That's all from me for tonight. Let's do this all again soon.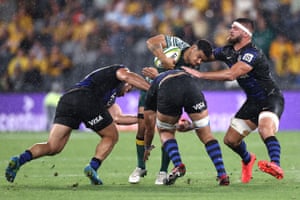 Another draw! These sides just cannot be separated in this Tri-Nations series.
80+2 mins: The black and blue wall will not be passed. With Australia barging as hard as they dare around halfway nobody can make any ground. Eventually Hooper loses in contact and Argentina can counter down the left. That avenue is closed off so the Pumas head infield. To no avail…
80 mins: 20 seconds to go from the drop-out. The ball goes long to O;Connor and the Wallabies run it back. Can they score in one final play?
80 mins: Not for the first time this series all eyes are on Reece Hodge. From 48m in driving rain…the kick hangs wide to the right!
79 mins: Australia win good ball and set up a rolling maul which gives them an advantage. The Wallabies try to go through hands in midfield but make little ground and play is called back. From 45m out, near the right touchline, Reece Hodge has a kick for the match.
78 mins: Australia with the scrum on their own 22 and Argentina give it a red hot go but just as they look ready to force a penalty there's a rest for the front rows coming up together. The second feed is more even but ends with the same result – until the touch judge intervenes and the referee's arm points Australia's way. The clearing kick goes just beyond halfway.
77 mins: Attacking lineout for Argentina, near Australia's 22. Two drives off the back and the ball is lost in contact by Simone. Gah. Just call this a draw and let us all go home and never speak of this again.
75 mins: Wonky through from Fainga'a and all the air is released from Australia's balloon. In response, Miotti bombs a massive garryowen from the restart that Australia do well to defuse, but it's a major territorial gain for Argentina with the clock ticking down.
73 mins: Argentina take an age over the scrum feed on their own 22, and after a huge shove from the Wallabies they are forced to hack clear down the blind side, the right. The ball is kicked straight back, but it's aimless, and the Pumas clear their lines down the left to near halfway.
"What a shambles, from the Wallabies. They must make more errors than any other international side," emails Martin Turnbull. In this series sample of three international sides the answer is a clear yes.
72 mins: Australia keep the ball in hand inside Argentina's half. After a couple of slow phases they find a break through Taniela Tupou, but just as some momentum was building O'Connor drops a soda and there's another set-piece. The rain is relentless, but even so, the number of errors and lack of cohesion is alarming.
There's a break in play while White receives some treatment.
"It seems to me that the only time any progress is made is when the ref awards penalties," emails Steve Griggs. "And there does seem to be an awful lot of them. Who is the ref by the way?" Australian Angus Gardner.
71 mins: The game is ragged and fractured now, and it suits Australia, who win a kicking exchange in the rain before almost finding space on the left when they go through hands. A nifty Argentinian interception stymies that move, but play is recalled for an earlier knock-on. Wallabies with the attacking scrum.
Australia again kick to the corner and with 14 against 14 they flex their muscles after a long run of sustained pressure. Once more it's a safe lineout followed by a rolling maul, and this time it works! Hooper emerging from the melee with the ball.
Hodge levels the scores with a fine conversion from near the right touchline.
68 mins: Another solid lineout, and another attempted maul, but Argentina are wise to it. Australia won't be put off though and keep the maul alive until they're inches from the line. Finally someone peels off to dart for the line. He's repelled, and when the next attempted pass to a runner is sent there's a Puma offside. The yellow card for a professional foul is straightforward.
66 mins: The diminutive White does well to disrupt Argentina following the lineout and Australia gain an attacking lineout of their own. Can they capitalise? They win clean ball and mount a rolling maul that gathers momentum until it's halted 5m from the line. When the ball comes out White spills it! But there's a penalty advantage and Australia continue to attack, kicking to the right corner.
65 mins: Following that knock-on there's a penalty to Argentina on their own scrum feed. From a marauding Wallabies attack to a Pumas lineout on halfway in a matter of seconds. Dave Rennie must be ropable.
63 mins: The Wallabies, all 14 of them, win the restart and set up camp inside Argentina's 22. They secure slow ball and try to grind their way home inch by inch… until they knock-on in contact. Plus ca change.
This has not been a great advert for Australia's skills coaches.
Miotti rubs salt into the wound with an excellent penalty, kicking cleanly through the ball from 40m out in the driving rain.
Grondona is off for an HIA.
High shot, direct contact to the head, with force, no mitigating factors… Salakaia-Loto sees red and the Wallabies will play the final quarter with 14 men.
60 mins: Deep in defence Argentina are scrambling but Ecurra has enough time to box kick, and it's a kick the flying Koroibete knocks on in the air. Another slow phase is kicked away and after claiming the high ball this time Hodge then loses it in contact. Deary me.
Argentina go through hands for a change around halfway, until the move is unceremoniously ended by a high shot from Salakaia-Loto on Grondona. This will be another card…
59 mins: Argentina take their time over the penalty and kick to halfway, but they make a mess of the lineout and Australia attack. This time they go for the early kick over the line but the bounce is favourable for Argentina and they clear. O'Connor regathers possession and goes to his boot again, pumping the ball into the left corner.
Sanchez has left the field for a second and final time tonight, limping and grimacing. What a series he's had.
56 mins: After clearing their lines Australia's lineout is messy and with the rain cascading down in stair-rods Argentina hack forward and force a set-piece of their own. Surprisingly, after securing it they choose to run through midfield and they quickly live to regret it as the Wallabies swarm all over them and Delguy is forced to accept contact and set up slow ball for a clearing kick. But they get even more when Salakaia-Loto is pinged for tackling the scrum-half without the ball.
54 mins: Superb restart and chase from Argentina sets up an attacking scrum on the right wing on Australia's 22 – but the Wallabies earn a penalty! Someone in the Pumas front row dropped a knee and the crowd lifts a few decibels.
Hodge makes no mistake with the penalty.
"Good morning from Portugal, Jonathan," good evening from Australia, Geoff Wignall. "Re, "That 101-point winning margin looks a long way off." Argentina don't need to win by quite that many." Quite! Just the 93 for the Pumas to top the All Blacks…
49 mins: Australia win a penalty at the scrum on halfway and try to make yards down the left wing. Guess what? They don't. After heading infield there's a free-kick that White tries to take quickly but he's called back just as he's shirt-fronted by Montoya.
Another good scrum from Australia and another penalty advantage. Play is eventually stopped and Hodge has another change to narrow the margin.
48 mins: Argentina are not just tackling the Wallabies, they are rag-dolling them all over the park. Petaia is flattened by Nahuel Tetaz Chapparo then another green jersey is ground into the dirt by a black and blue blur. This is thrilling defence.
46 mins: Australia steal the first lineout of the night but as soon as they try to run Simmons spills in contact and Argentina escape. The tackling is superb, but the ball skills are not of an international standard.
44 mins: Another kicking exchange is only partially interrupted by another failed Australian attack just inside their own half. This Argentina side will not be passed.
A further flurry of kicks ends with an Australian lineout on halfway. Hodge bombs superbly and the garryowen comes down with snow on it Australia's way. White capitalises, dribbling to the corner.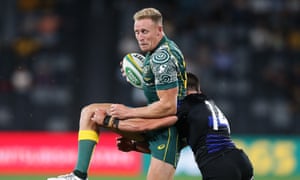 42 mins: In driving rain it's a minute-long game of kick-to-kick with neither side eager to run the slippery ball. Eventually Australia take the risk, running to their own 10m line but after a slow recycle Argentina step up and smash the ball carrier miles behind the gain line and the Wallabies cut their losses and kick.
41 mins: Here we go for the second 40…
Other things to chew over at the break…
The pregame anthem is earning plaudits left right and centre. In case you missed it, Australia did a rendition of Advance Australia Fair in the local indigenous Eora language. Players had clearly learned the words and belted it with gusto.
Two yellow cards (both nearer red than nothing, if the TMO chat is to be believed) raises questions about the execution of clearouts in the modern game. This has already been a series featuring plenty of cards remember.
The rain is tumbling down in Sydney and isn't going to encourage an open free flowing spectacle in the second half.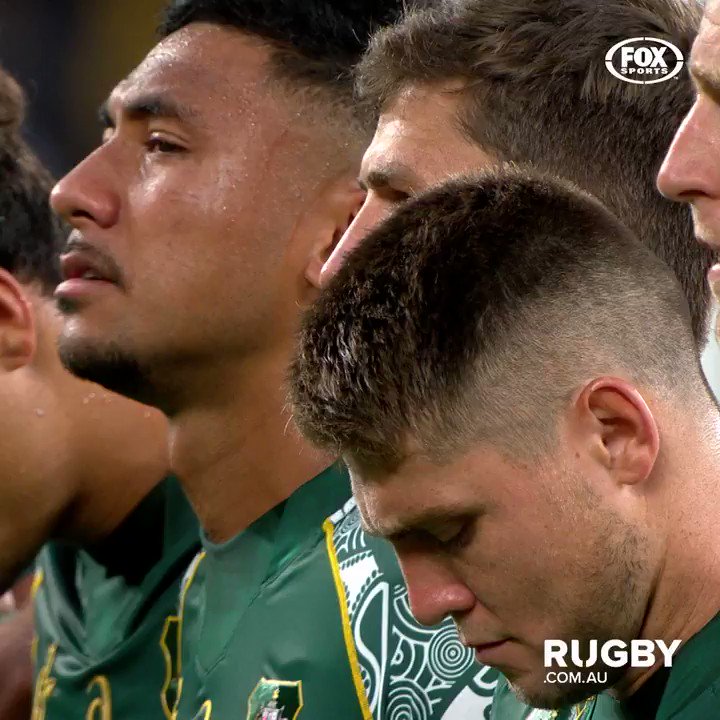 Not the first half Dave Rennie would have hoped for. His side controlled possession and territory for 20 minutes but looked short of ideas to penetrate the incredible Argentina defence. They have now gone three halves without crossing for a try against the Pumas.
As the rain started to fall and Argentina's Kremer hit the bin the momentum started to change. The game became more broken and the Pumas established a foothold at the set-pieces. Then Hooper saw yellow and Argentina struck superbly against 14 men, turning a lineout on their own 22 into a brilliant 80m try.
The Wallabies need to figure out a Plan B or C against this magnificent defence.
That 101-point winning margin looks a long way off.
Hodge narrows the deficit to seven points from point blank range.
40+2 mins: That knock-on from O'Connor's tackle hands Australia a scrum feed in A1 position, 15m out in centre field. The first scrum is called off, then when it's reset Argentina's shove causes chaos but the Wallabies are reprieved when both front rows pop up. The third set is clean and White heads left to O'Connor who straightens and takes the contact 3m away from the line. An advantage quickly emerges as a series of short drives fail to puncture the defensive line and well after the siren Hooper accepts the kick for points.
39 mins: Australia restart with intent and take the game into Argentina's territory. There's a delay while Simmons is treated on the field, then for an Argentina scrum feed that's reset twice. When they break O'Connor nails a superb tackle to force a handling error, but the counter ends before it begins with Petaia grassing White's pass.
Hooper and Sanchez are both back on.
Oh my. Argentina get rumbling with a rolling maul from the lineout on their own 22. Australia try to repeatedly disrupt it without much luck and by the time it splinters there's space all over the field and an overlap on the right wing. They manage the breakaway with skill and in the blink of an eye Bautista Delguy is fending off Paisami with great force to run home the five points.
Miotti slots the conversion. Argentina flying against the 14-man Wallabies.
33 mins: Australia have been sloppy over the past ten or so minutes and the latest miscreant is Koroibete for tackling an Argentinian while he was in the air collecting the restart. The Wallabies make a fist of the resulting scrum, forcing the Pumas to kick for territory, setting up a chaotic passage of broken field play featuring Koroibete running hard back towards Argentina's defensive line before the Pumas reclaim possession and mount a patient multi-phase possession that ends with a poor garryowen. The bomb somehow lands in the hands of Simmons, who instinctively kicks into the space behind Argentina and buys some handy territory.
Argentina don't decline the second penalty attempt, and from 25m on a slight angle the HIA substitute Miotti makes no mistake.
30 mins: With Sanchez off the field Argentina decline the shot for goal and instead kick for the 22. It's a scrappy lineout that looks to be a Puma knock-on, but the referee spots another ruck infringement from Hanigan and the hand is extended Argentina's way.