Courting success: Abbeville state football champ coaches daughter in tennis – Index-Journal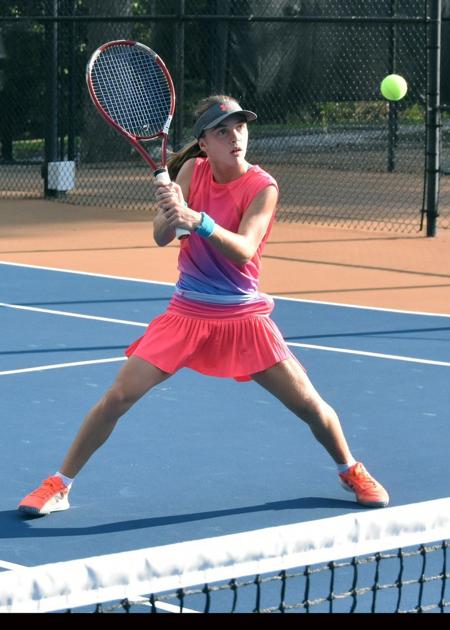 Like father, like daughter. Greenwood's Harper Stone, 11, is the No. 1-ranked tennis player in the nation in her class by TennisRecruiting.net.
"It kind of keeps me motivated to try to keep that up," said Harper, who was 4 when she started playing.
The sixth-grader has defeated college tennis players, including at the University of South Carolina, and finished fourth at the 18-year-old girls state championships.
Harper credits a lot of her success to her father, Casey Stone, a former standout athlete at Abbeville High School and a baseball player at Clemson.
"He's very intense all the time," Harper said of her father. "He's always keeping the level of the practice up."
Casey, who won a state championship with the 1996 Panthers football team, helps coach his daughter.
"Harper's biggest skills are her speed, power and competitiveness," Casey said. "These are traits that link to A-Town football."
The Panthers are scheduled to play for the state championship at 6 p.m. Friday at Benedict College in Columbia. Casey said he and his family owe their success to the Abbeville program.
"I have always been thankful I grew up in Abbeville," Casey said. "It is a town full of amazing athletes. Great athletes make other athletes better. That is a big part of A-Town tradition. I looked up to the players before me."
Harper not only looks up to Casey, but also to her mother, Heather Hite Stone, who was a cheerleader for the 1996 state title team. Heather was valedictorian at AHS and now has her own law firm, Hite & Stone, with her brother, former Abbeville quarterback Tombo Hite.
Harper's great-grandfather is former Abbeville coach Tommy Hite. The stadium at the school is named after him.
Harper said her family's rich tradition, including the success of her father, is motivation. Casey played in the College World Series while at Clemson.
"I think it's helpful," she said of her father's success. "I think it makes me want to drive and get better as a tennis player."
Harper, who practices where she lives in Gatewood, said she loves tennis because you can "play it as long as you want to."
"It's a sport you can play your whole life," she said. "It always keeps me exercised and always keeps me doing something, where I'm not just sitting around the house."
Harper said it took a lot of dedication and hard work for her to get to where she is.
"I don't think I would have been able to do it without my dad," she said. "He's helped me a lot. He's given me a lot of time and dedication."
She said that beating college players makes her proud and that her hard work is paying off.
"I just want to keep getting better and keep doing what I'm doing," Harper said. "I do want to make it to the pros. That would probably be my main goal. It will take a lot of time, effort, practice and dedication."
Harper says the best part of her game is her mind.
"I'm starting to get more mature mentally," she said. "I don't get down on myself."
Casey said he realized about two years ago that Harper had a future in tennis, so he decided to become a fulltime dad for his two girls.
"At this point, it was worth pursuing to dedicate a little more time to practice and to travel with tennis," Casey said. "As a kid, I knew she had an aptitude because of her footwork — she has really good feet — and has really good balance. She's side-to-side fast like I was."
Casey had a penchant for stealing bases in baseball and for running punts back for touchdowns on the football field. Harper picked up her father's athletic ability — and the family's tradition of success. Casey said Abbeville always had the best athletes and he was always being challenged. That work ethic translated over to Harper.
"What I did with her is that I never let her be the best," Casey said. "If she was 8, we might be playing 12-year-olds. I always wanted her to be pushed to be like that."
Casey said the 1996 football team wanted to keep the success going from the 1991 state championship football team. It's a matter of never settling for second best, and he's taught Harper that lesson.
"That's how you start a tradition," Casey said. "I've tried to do that with tennis. I would take her around the best kids I could get access to. It makes her hungry. When I got to Clemson, I was really good at Abbeville, but there was such good talent at Clemson that it really pushed me. It pushed me into that mindset that I wanted to be the best at Clemson. I could tell she (Harper) kind of had that."