Tennis: The best recreational sport for during pandemic – Cannon Beach Gazette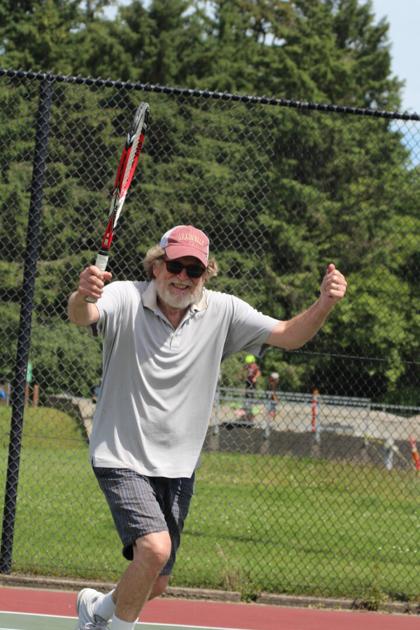 The Texas Medical Association categorized playing tennis as the safest recreational sport for Covid times. It was rated in line with going camping or pumping gas, and just ahead of playing golf or walking with friends. In Cannon Beach, there has been a small cadre of tennis players enjoying summer, fall and now winter doing just that. Courts are 120 feet long by 60 feet wide and, even with four people for doubles, space is plentiful. Just add other precautions for more safety.
Mike Morgan has accumulated a substantial group of players over the years. Some are Cannon Beach locals. Others are tennis passionate Nor'Coasters. Still more are the part-time owners that might text ahead to arrange a game while in town. Over the years, the repeat visitors include: an award winning San Francisco restauranteur, the tennis director from a distinguished Hawaii tennis resort, a tennis club owner from Olympia, and even the ex-GM of the NBA's Minnesota Timberwolves. The regulars include the Seaside City Council Chairman, Randy Frank; the North Coast Land Conservancy President, John Mercereau; and Cannon Beach's own 'Norm, from Cheers' – Ken Quarles.
The CB tennis courts are a great asset for the tourists to enjoy. There are only four public and well maintained courts in the whole county (two in Cannon Beach and two in Gearhart.) Morgan's rag-tag group of tennis bums try to do their part in keeping summer congestions to a minimum. They avoid peak tourist play time (fortunately only the locals know it is too windy to play in the afternoon!) Some players ride their bikes to the courts to ease parking – or an old scooter for Ken. The group also moves their play to Gearhart where parking is less of a scarce resource and the Hwy 101 congestion is less of a hassle for those living further north. Besides the fish fry smells from Ecola Seafood can be so distracting. Our courts still seem to fill up with couples, families and weekend warriors! Utilization seems to mirror the town's parking – feast or famine.
It has been a fun summer for the little group. Playing rain or shine, warm or cold and always at a playing level much lower than those of their youth! However there are some stars. Several of the guys have earned top level senior rankings in the Pacific NW region. Terri Neal was a multiple finalist/champion at USTA's mother/daughter Nat'l tournaments and periodically plays the Senior National Husband-Wife National Tournament with her spouse, Randy. However, we are still hoping to get former college player and tennis legend, Jason Menke of Sea Level, out to play…haha!
Looking ahead, there are a more things to look forward to. The city is exploring for options to add pickleball lines and the tennis group has been trying to help influence that effort (see accompanying story.) Morgan is always hoping to improve his game. The rest of the group are awaiting their vaccinations to more easily enjoy their post-match frosty brews from local downtown pubs like Seasons (closest!), the Driftwood or Bill's Tavern.
Pickleball: Coming Soon to Cannon Beach?
Pickleball is touted as the "fastest growing sport in America." Courts are springing up everywhere. Nehelem just dedicated four courts. Manzanita has one. Gearhart added lines to one of their two tennis court for another two courts last year. There is also a push for court space in Seaside. Cannon Beach's Chamber of Commerce and City Hall have tourists asking "where are the pickleball courts?" There are even rumblings that there are locals who would like to play!
The Parks Committee has another session in January to discuss adding a pickleball option at one or more of the tennis courts. Also in January, the City Council will begin hear inputs on how best to utilize the Cannon Beach Elementary School, the city now owns. Local pickleball player and Sea Ranch RV owner, Carmen Swigart, will propose the gymnasium allow space so that 'indoor' pickleball can be played as one of the sport options within (rollaway nets, of course.) Cannon Beach has few (no?) indoor sports for those winter months and rainy days. She says the old school gym would be a perfect solution.
Pickleball is easy to learn, so it is great for families with kids. Points and games are fast and quick. The quick rotations make the game very social and easy to meet new friends. The court is much smaller so it is gentler on the knees and body. This makes very popular with the 'experienced' generation needing fitness options. Two thirds of all pickleball players are over the age of 55.
Even the tennis group is involved. Several already play periodically with the Gearhart group and some second home owners play back in Portland. One third of all pickleball players are current or former tennis players. It is even easier to learn for them. The tennis group would like to see a pickleball configuration like the one Gearhart implemented in 2019. They also support Carmen's indoor option for the school. They've been reaching out to local residents about rumored interest in pickleball – and that list is growing. The Menke family, Sea Level Bakery owners, are anxious to see it happen. Stay tuned.