PREP BASKETBALL: Boys, girls district matchups on tap tonight – Elizabethtown News Enterprise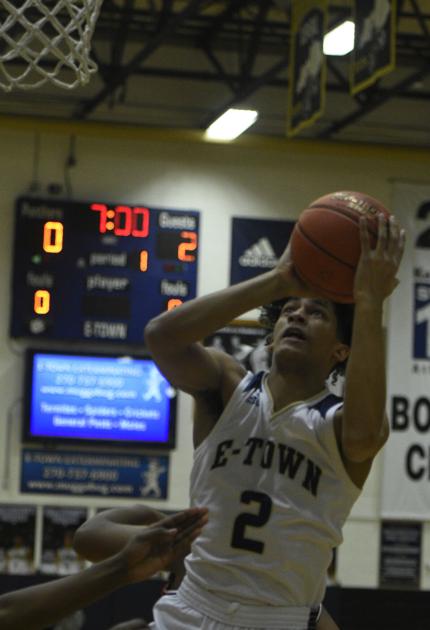 17th District basketball is back in action for both boys' and girls' games this evening, with a pair of contests between cross-county foes.
On the boys' side, Central Hardin hosts Elizabethtown for the two teams' first meeting of the season. The girls' game features the first meeting of the season between John Hardin and North Hardin, with the Lady Bulldogs making the trip to the Lady Trojans home court.
Both games get under way at 7:30 p.m.
E'TOWN-CENTRAL. The Panthers' return to the court continues tonight in Cecilia.
After a three-game stretch of cancelled and postponed games over the course of two weeks, No. 9 Elizabethtown is looking for its second straight district win after defeating North Hardin on Saturday.
On the other side, Central Hardin heads into the matchup looking to bounce back from a pair of close losses. This includes the Bruins' first district game of the year this past Friday in a home loss to North Hardin, as well as a one-point loss to Barren County on the road a week ago.
The back-to-back defeats put Central Hardin at 2-3 on the season. Meanwhile, the Panthers enter tonight's game with a 4-1 record. The team's only loss thus far came Jan. 12 against John Hardin.
Elizabethtown's leading scorer heading into the game is Jaquais Franklin at 87 total points, for an average of 17.1 per game. He is followed closely by Khia Sherrard at 80 points and an average of 16 points per game. Camden Williams rounds out the Panthers' top three with 61 points for an average of 12.2 per game.
Williams and Sherrard are the team's leading rebounders at 26 total and 5.2 per game.
Central Hardin is led by Landon Elmore with 80 points and an average of 16 points per game. Elmore also leads the team at the boards, picking up 27 rebounds through the Bruins' first five games for an average of 5.4 per game.
Hayden Ash trails just behind Elmore at 72 total points, for an average of 14.4 points per game. Preston Keith is third on the Bruins' scoring list at 46 points on the year.
NORTH-JOHN. Tonight's game features two teams coming in with similar records through the first month of the season. John Hardin enters at 1-6, while North Hardin stands at 0-5.
At the same time, a new month brings new games and new opportunities.
"I think we'll have to be able to handle their pressure. I think they'll try to put a lot of pressure on us. We've struggled with that this year and so I think that that's what they'll try to do to us." North Hardin coach Whitney Hooper said of tonight's matchup. "If we can handle the pressure and move the ball and get into our offense and get flow, then I think hopefully we'll have some success that way."
Adding to the importance of tonight's game is that it would mean a first district win for either team.
The Lady Bulldogs previously fell to Central Hardin twice and Elizabethtown once. Their lone win came Jan. 15 over Thomas Nelson.
On the other side, two of the Lady Trojans' five losses have been against No. 3 Elizabethtown.
For North Hardin, Hooper believes picking up a district win, as well as the team's first win overall, will require confidence on both ends of the court.
"I think we just need to be aggressive defensively. Sometimes we get back on our heels defensively, especially when we're guarding the ball, so trying to be the aggressor defensively," Hooper said. "Also just being aggressive offensively, but having patience to get the shots up you want. If we can do those two things, I think we'll have some success (tonight)."
Coming into the game, Paityn Isom has been North Hardin's leading scorer, with 80 points for an average of 16 per game. Tempress Wimberly and Ella Scherer have followed at 32 points each. Wimberly also has been the team's top rebounder so far, with 29 total for an average of 5.8 per game.
John Hardin has been led by Sharon Tidwell at 79 points for an average of 11.3 per game. Tidwell also leads the team in boards with 61 total for an average of 8.7 per game.
After Tidwell, Destini McAllister follows with 52 points, ahead of Quiona Clay's 43 points.
When it comes to the Lady Bulldogs' offense as a whole, Hooper wants to see her team limit John Hardin's ability to drive to the basket.
"We have to keep them out of the lane and we have to keep them from scoring inside. If we can keep them out of the lane off the dribble penetration and we can keep them from scoring inside, that obviously bodes well for us defensively" Hooper said. "Also we need to be able to get and run against them some offensively and try to get some easy baskets, because they are able to put the pressure on us."