Chicago Bears 2021 NFL draft profile: Josh Ball – Bear Goggles On
Josh Ball is going to be a controversial pick when he is selected in the 2021 NFL draft. Ball was once a prized recruit who started as a redshirt freshman at Florida State. However, he had a dating violence issue that caused him to be kicked out of the school and off of the football team. Ball went to Community College before transferring to Marshall.
With his background, there is a clear divide between giving someone a second chance, and not trusting someone who showed their true colors. While NFL teams will have a better ability to gauge his personal life more than us, we can judge what he would bring on an NFL field.
Traits that Josh Ball could provide in the NFL
Ball is tall and long with a good NFL frame. For his height and how long he is, he can move pretty fluidly as well. He is best on the go, and you can see below how well he looks in space. He is able to pick up blocks at the second level and continue to ride them into the sideline.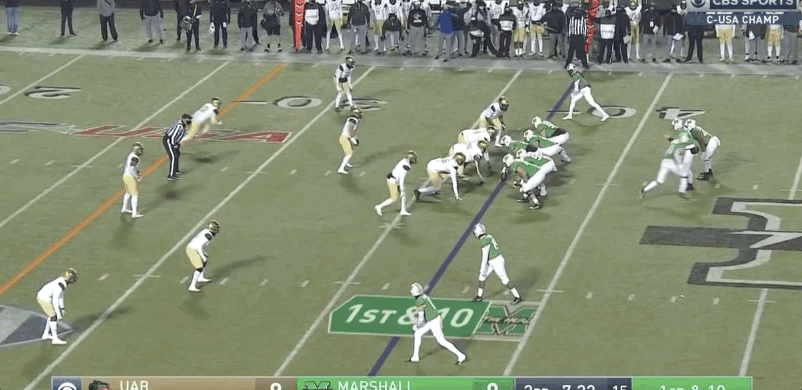 Ball was a fluid shuffle and is pretty light on his feet overall. In the run game, he does well executing down blocks as well as running to the second level. There is a lot to work with and a raised upside from his physical ability.
Weaknesses that Josh Ball may have in the NFL
Josh Ball is very raw when comparing him to the rest of this draft class. His shuffle back in pass sets is fluid but raw, and inconsistent. He struggles with inside counters and change of direction and typically once he starts his set, he will ride it all the way with trouble changing his movement.
In the C-USA conference championship, he squared off with Jordan Smith, another draft prospect, and lost consistently. The play below was essentially the play of the game. Marshall was going for two down two in the fourth quarter. Ball is beat cleanly off of the football and forces his quarterback to scramble into pressure.

Smith is an NFL athlete, but it is concerning that while he dominated C-USA defenders, he got exposed in his only big game against NFL talent. You can see he plays with good knee bend, but for how tall he is playing so bent over that he loses a lot of his speed against faster rushers.
Aside from the off of the field, you are working with a ball of clay that may take time to develop. That combination may be a turn-off for teams.
NFL Comparison for Josh Ball
Ball was able to go through workouts and get measured at his pro day. You can see his measurements below.
When looking at the combination of his size and athleticism, there is a list of physical prospects that he compares to. You can see pretty quickly that there are some high upside comparisons based just on physical play.
If he hits his upside, he physically compares to Jake Long and Anthony Castonzo. However, he never developed into that type of technically sound player.
Entering the NFL, Bears fans may see a closer player to Gabe Carimi, or Luke Joeckel, who was a pure athlete who struggled to translate to the NFL.
However, the best comparison on the list could be Spencer Drango. Drango, like Josh Ball had all of the physical tools but did not have the refinement to match. That cause Drango to drop into the fifth round, and we may see Ball on Day three as well.
Drango got chances due to his size, but because he was a late pick he did not get multiple chances to learn from mistakes. That may be where Josh Ball falls as he still has a lot of work to be NFL refined, but does have the upside that a team is going to take a chance and throw him out there at some point.
Does Josh Ball fit on Chicago Bears?
It is hard to sit here from so far away and judge who Josh Ball and how the Chicago Bears view him. The Bears typically say they are strict, but beyond antics such as Anthony Miller and Javon Wims, they did stick with Mario Edwards, after he had a domestic issue last season.
I do not know the extent of that story either, and it is tough to make the assumption that because the Bears excused one, that they would draft Ball based on his talent and not his back story.
On the football field, he could be a depth tackle option on day three. The Bears have a need for the position, and while he may not start in 2020, the job is open for 2021. He is so raw that it would be the sixth round or so when the risk is taken, but with potential starter upside, the Bears may take that bet on Day three.