Michigan Basketball: Containing LSU's Cameron Thomas primary focus – Detroit Jock City
Michigan Basketball is set to square off against the LSU Tigers Monday evening, with the opening tip scheduled for 7:10 p.m. ET. The game can be found on CBS.
Michigan cruised past Texas Southern 82-66 in the first round of March Madness. The LSU Tigers beat St. Bonaventure 76-61 in its first-round contest.
LSU finished the regular season strong, winning five of their last six games, only losing to Alabama 80-79 in the SEC Championship game.
Michigan Basketball will rely on its bench if they hope to advance deep into the NCAA Toamurnent.
More from Detroit Jock City
The Wolverines will again lean on Brandon Johns, who is expected to start for the injured Isaiah Livers. In 25 minutes of work against Texas Southern, Johns scored 11 points but only reeled in a pair of rebounds and added an assist. Johns converted on six of his eight free-throw attempts. The 6-foot-8 forward also buried one of his three shots from beyond the arc.
Michigan Basketball will need a better performance from guard Franz Wagner. Wagner provided the Wolverines with an overall solid line in the first round of the tourney but moving forward, head coach Juwan Howard will expect his talented guard to score in double-digits. Wagner converts on nearly 40% of his three-point shots, so his one for four in game one seems like a fluke.
The Wolverines need Wagner to be a consistent scorer if they hope to make a deep run. Wagner scored nine points, added nine boards to go along with six assists against Texas Southern. Wagner really stepped up on the boards aiding the often double-teamed sensational freshman center Hunter Dickinson.
One cause for concern was the Wolverines' inability to score consistently inside during the first round. Michigan was outscored a whopping 42-30 in the paint. Dickinson was often double-teamed the second the ball was thrown into him. Texas Southern forced Dickinson to turn the ball over six times.
Although Dickinson struggled on the glass, the good news is that the Wolverines were still able to out-board Texas Southern 38-28. I don't expect Dickinson's struggles on the glass to continue, but there is a template here for LSU to work with Monday night. The Tigers struggled on the glass all season, giving up nearly 33% of its defensive rebounds. If the Wolverines can pull down about one of every three offensive boards, they should cruise to the Sweet Sixteen.
Expect to see the defense collapse on Dickinson the second he has the ball thrown inside, and the counter-attack is Dickinson needs to muscle his way to the rim or find the open outside shooter. LSU is limited on the glass, but they do defend exceptionally well overall. Opponents shoot just 29% from three against the Tigers.
Michigan Basketball will need Chaundee Brown and Austin Davis to play well for Howard off the bench. Brown failed to score in round one, but Davis chipped in with seven points in ten minutes of work. If Brown can mirror his season average of 7.4 points per game, it will bode well for the Wolverines.
Michigan Basketball needs to be aware of LSU's freshman guard Cameron Thomas. Thomas is a respectable scorer that averages nearly 23 points per game. Thomas only shoots 40% from the field and 32% from beyond the arc at a high volume.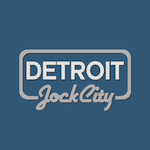 Want your voice heard? Join the Detroit Jock City team!
Thomas played a team-high 39 minutes in the first round scoring 27 points and adding four boards and three assists. Thomas converted on just seven of his 18 field goal attempts and two for seven from beyond the arc but shot eleven of thirteen from the charity stripe.