Kyler Schott Another Success Walk-On Story for Iowa Football – Hawkeye Nation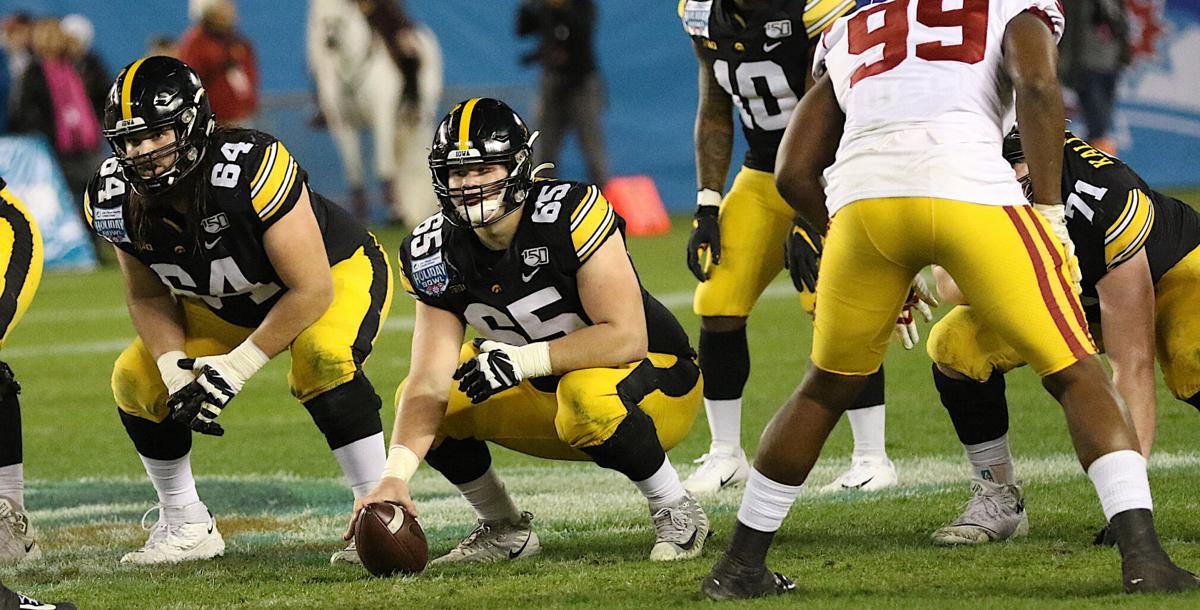 IOWA CITY, Iowa – It's a story that's been repeated many times in the 22 seasons Kirk Ferentz has been the head football coach at the University of Iowa.
A lighty-recruited player with few or no scholarship offers accepts a walk-on opportunity from Iowa. That player works his way up the ranks with a chip-on-the-shoulder mentality, makes a living in the weight room, breaks into the two-deep, earns a scholarship and becomes a starter. Many times, that road leads to an opportunity in the NFL.
The latest in that long line of success stories is Kyler Schott, who will head into fall camp as the Hawkeyes' No. 1 left guard. And last week, Pro Football Focus listed Schott No. 8 nationally among all interior offensive linemen.
Iowa's latest depth chart lists Schott at 6 feet 2 inches tall. That's a stretch. The 295-pounder is, by his own admission, 6-1. The two-time letterman and lone senior starter in the offensive line had no scholarship offers out of North Linn of Coggin. Iowa Central Community College offered some financial aid, but that was it. Upper Iowa called once, and didn't call back. Schott's height, or lack of it, was a concern.
Former Iowa assistant Reese Morgan, who made a career of looking under every rock in search of underrecruited prospects, is the man who found Schott a few years back. Morgan's recruiting legacy was one of the most important ingredients in Ferentz's success at Iowa before Reese retired following the 2019 season.
When he decided to take Iowa up on its walk-in opportunity in late January of 2017, Schott went to social media to make his acceptance public.
"I would like first to thank all of my coaches and my parents who have helped me make one of the hardest decisions of my life," Schott wrote. "I have always dreamed of playing football in college and I am truly blessed to say that has become a reality. I would like to now announce that this upcoming school year I will be furthering my academic and football careers as a walk-on at The University of Iowa."
Schott is nicknamed "Shooter." And the avid outdoorsman, who hasn't had a haircut in four years, is trying to become the most famous Shooter since Dennis Hopper played the role of Wilbur Shooter Flatch in "Hoosiers."
Wrote Pro Football Focus, "Schott, who walked on for Iowa in 2017, was only a couple of games into his 2020 season before suffering an injury that knocked him out for a few games. He returned to the guard rotation as a non-starter in Iowa's final three games. Still, Schott was a top-notch pass protector. He posted an 87.4 pass-blocking grade and allowed just one pressure, which was a quarterback hit by Purdue edge defender George Karlafitis on a stunt. Schott's pass-blocking grade and pressure rate allowed were both top-three best marks by a Power Five guard."
Schott is one of many Hawkeyes who shined on the mat as well as the gridiron in high school. He lettered four times in both sports at North Linn. Schott was a state runner-up at heavyweight in 2017, compiling a 50-2 record. Among his victims was junior Tyler Linderbaum of Solon, now Iowa's starting center and the nation's No.1 interior offensive lineman according to Pro Football Focus.
Schott lost to Jared Brinkman of Iowa City Regina for the 2017 state title, 5-2. Brinkman went on to play defensive tackle at Northern Iowa. Brinkman was the Missouri Valley Football Conference player of the year in 2021.
Schott and Linderbaum are now the experienced leaders in a young but promising offensive line heading into the 2022 season.
"We have a lot of depth," Schott said. "We have so many people who can do big things here. We just have to lead them."
Schott had his breakthrough in the 2019 season opener against Miami of Ohio. When tackle Alaric Jackson was injured, the line was shuffled and Schott was inserted at right guard. He made his first career start there the following week against Rutgers. He played in eight games that season, starting six, but missed five games due to injury.
He started five games last season, one at left guard and the other four at right guard. He missed three games due to illness but still earned honorable mention all-Big Ten honors. People questioned Schott's potential, and shied away from him, because of his lack of height. But like all underdogs, he's found a way to use that to his advantage.
"It helps, getting under people's pads and moving them," Schott said. "There are not too many guys who are 6-1 in the Big Ten running at them. I had a few guys last season talk about how short I am. They weren't used to it."
When Schott made his announcement to attend Iowa, he included a picture of himself. He had short hair and was clean shaven. He now sports long hair and a long beard. "I got tired of paying for haircuts so I just let it go," he said. "I have no deeper reason." If he finishes his Iowa career on a high note, and finds a landing spot in the NFL, paying for haircuts will be easier on his budget.