Three Manhattan players remain after Day 1 of state tennis tournament – Manhattan Mercury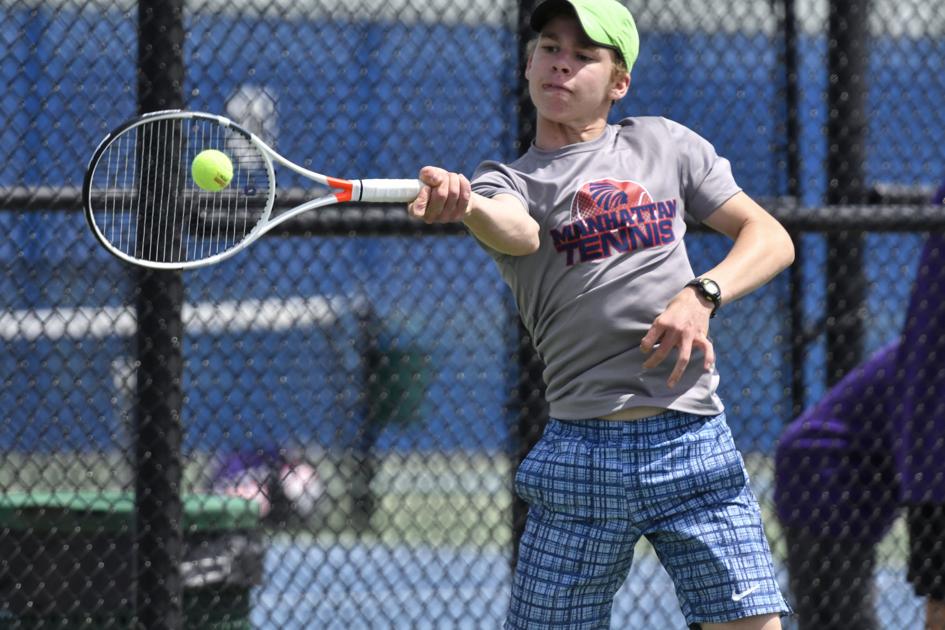 Three Manhattan players remained in contention for medals heading into the final day of the state high school tennis tournament at Harmon Park Tennis Complex in Prairie Village.
Dan Harkin (27-1), the top seed in the singles tournament, beat Shawnee Mission East's Gregor Wiedeman and Blue Valley-Northwest's Brent Fallon on Friday to advance to the state semifinals, scheduled for Saturday.
Both opponents pushed Harkin harder than he was used to. Before Friday, Harkin had only lost four or more games in a match three times.
But Wiedeman led Harkin 5-3 in the first set before Harkin charged back to force a tiebreaker at 6-6. He won that tiebreaker, 7-5, taking the set 7-6 and then demolished Wiedeman 6-0 in the second set. Harkin and Fallon's match featured just one serve break each set; Harkin prevailed 6-4, 6-4.
Harkin was set to play Blue Valley-North's CJ Smith, who lost just one of the 25 games he played Friday, in the semifinals on Saturday. The winner of that match will play either Graham Faris from Shawnee Mission East or Akshath Poojari from Blue Valley West.
Luke Craft and Kelton Poole (33-6), Manhattan's top doubles team, spent Friday afternoon fighting their way through the losers' bracket after their 6-4, 6-1 loss to Blue Valley-North's Matthew Crossland and Eli Amsterdam.
From there, Craft and Poole won 18 straight games while beating Hutchinson's Seth Allen and Will Jackson and Dodge City's Erik Martinez and Christopher Velez. Blue Valley Northwest's Jackson Marrs and Cameron Parrish awaited them in the next round, set for Saturday. Their best-case scenario would be fifth place.
Dil Ranaweeera and Jackson Ivester didn't last long enough to fight for a medal. After beating Allen and Jackson to start the day, Ranaweera and Ivester lost a third-set tiebreaker to Lawrence Free State's Benjamin Melvin and George Thornton. Their day ended with a 9-7 loss to Olathe East's Ryan Kempker and Sam Sweat.
The Indians' No. 2 doubles team finished 21-11 on the season.
Jon Grove finished 27-12 out of the No. 2 singles slot. Grove lost his opening match to Poojari in straight sets. And though he beat Free State's Jared Loos during his first losers' bracket match, Olathe North's Samuel Amrith stopped Grove's run with a 9-3 win in the next round.
Day 2 of the tournament was expected to begin Saturday morning at approximately 9:30 a.m., if forecasted rain holds off. Harkin is aiming to win Manhattan's first singles title since Michael Center won in 1982.
Results from Saturday's matches will be published at themercury.com as the action unfolds.