Historic rugby gala boasts boozy shenanigans | Sports | jhnewsandguide.com – Jackson Hole News&Guide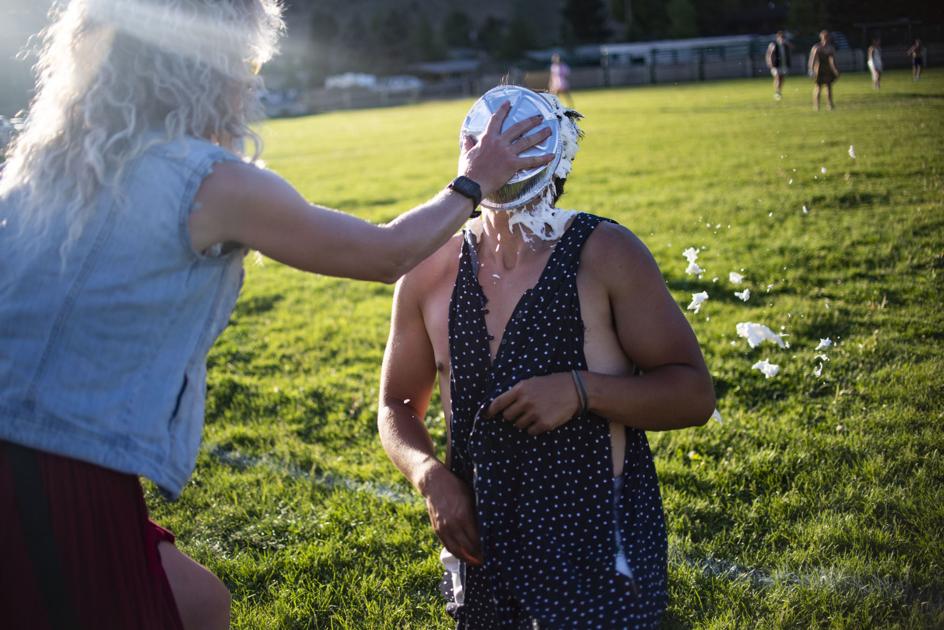 As the sun set over rodeo fairgrounds grass, announcer Anthony Campolattaro kicked off a chaotic second half with the following declaration:
"Here's to 40 more minutes of action-packed smash."
This was no typical rugby match, but rather the "first annual," prom dress rugby, which is pretty much exactly what it sounds like: Some of the gnarliest Jackson athletes taking each other on in their finest prom garb, all in an effort to raise funds so the Jackson Hole Moose Rugby team — a treasured family by all accounts — can travel around Wyoming, sharing their infectious energy and camaraderie across the Cowboy State.
On Friday night, the team raised $4,200 thanks to an on-site bar and a suite of shenanigans that fans could purchase to make the already ridiculous game even more wild. For just $10 spectators could force two ruggers to "pucker up" and kiss. Fifty bucks, and you could make up a dare of your own.
The entire Kascoli family, for instance, showed up to put Cody Kascoli through the wringer. His mother Rhoda launched a pie into her son's face, and his sister helped clean him off with gleeful blasts from a water gun.
Jackson Hole Fire and EMS also showed up, but only so Sam Stein could give his roommate a hard time.
"I want to smack the sh— out of Denton," the firefighter said. "Twice."
The slaps came on Denton Getchius' bare left buttock, where he proudly sports a "Made in the USA" tattoo.
"This was supposed to be a family friendly event," said a glitter-clad Mikenna Smith, who elected to work concessions so she'd make her morning work trip.
"You accept a certain amount of risk when you get out on the pitch, and I gotta make that flight," she said.
The most popular bid was called a "flabongo," which consisted of an overturned plastic flamingo turned into a satisfyingly dramatic vessel for beer.
Several athletes got "flabongoed" hard before the end of the first half, and they were feeling it at halftime.
One rugger said she was about to tackle a guy on the opposing team, but a last second change of possession meant she collided with a female player, taking her down hard to the dirt.
Women's president Nat Smith's team was up 15-0 at the half, though once the insanity resumed, the official score didn't seem to matter much.
Fans Erin DeJaranette and Robert Dudzik of local startup AlpenGlow Adventure Catering were cheering on Keren Mikva even though half their friend group didn't know her.
"I'm just gonna make her do embarrassing things and drink beer until I meet her," DeJaranette said, smiling from the sidelines.
Men's team president Brad Walsh, rocking daisy dukes and Old Bay Seasoning socks, elected to serve as referee, while announcer Campolattaro, fully decked in '80s disco, got behind the mic because "nobody could do this job better than me."
The New West KnifeWorks COO could have easily been a sports announcer in another life. Throughout the co-ed match he gave the crowd tidbits of backstory on each player, referencing their college days or their new engagements while also calling them in for fresh pranks at every whistle — all of which made the folly feel almost like a legitimate sporting event.
At the end of the night, Campolattaro's friends Jeremy Walker and Jay-Nel McIntosh of Bin 22 made sure he got blasted with water, which the afroed anchorman made into quite a marvelous performance.
Also deftly wielding the squirt gun was a giddy Lindsay Schafer, who turned surprisingly serious after the final kickoff.
"This group is so special," she said, building off the painful reality that it's becoming increasingly difficult to live with a sense of security in Jackson.
As silly as the prom-themed, booze-heavy revelry was, she said, "this is our family, and we're so lucky to have that community."
Through the team, players have found jobs and housing in an increasingly tight market, its presidents said, and as Walsh puts it, being a Moose member has "totally changed my life."
Some of that impact is evident in the way they break into tears while singing the Moose anthem, arms wrapped tightly around each other, swaying in time, but mostly it comes off the field, when the ruggers retire to quieter corners and share their daily struggles.
As the team looks to expand its influence and open up opportunities for youth competition, the supportive camaraderie is top of mind for Smith and others.
"Whether you're just looking for a bike buddy, advice on careers, or a bad breakup, a Moose will be there," the women's president said.
The 40-some members that make up the Moose Rugby family will compete next weekend at the Jackson Hole Middle School fields and at Teton Tens in July, sporting the more typical striped uniforms but buoyed by a lasting zeal.
"This is our family, and we're so lucky to have that community." — Lindsay Schafer JH Moose Rugby Player